Liz Rose-Hay and Tony Hay welcome you
to the Cataluna and Shaunavon Website.
These pages contain news and information about the Cataluna Irish Setters, not just ours at home but from all over the United Kingdom and the world. Whether you are already a member of the Cataluna 'clan', a fellow exhibitor or just someone who loves Irish Setters, we are pleased to welcome you to our site. Have a look around and let us know what you think about us and our beautiful dogs!
There will be 'special' pages from time to time, so bookmark this page and check for new features. If you own a Cataluna (or a descendant) as a show dog or a pet we would love to hear from you and include you on the site.
Liz Rose-Hay has been awarded Membership of the Assured Breeders Scheme, run by the Kennel Club, for Irish Setters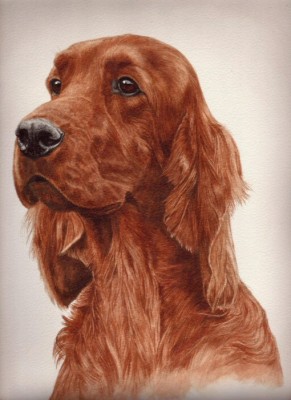 ShCh Cataluna Gee Whiz
painting by Anne Zoutsos, AZPaintings